Ariana Villanueva, Front Desk Coordinator/Assistant Stylist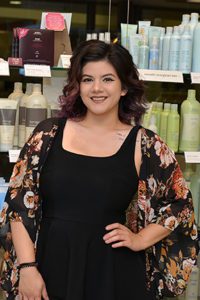 While attending community college at De Anza in 2015, I did a complete 180 & decided to pursue Cosmetology, rather than continue my educational career in Criminology and Psychology. After graduating from Paul Mitchell in January of 2017, I decided to continue my career in the beauty industry with the Aveda brand. Despite my overall admiration for the beauty industry, I specialize mainly in fashionable vivids, balayages, and makeup. Every color, line, song, person, etc. has inspired my hair creations in all ways, shapes, and forms.
While this trade can be perceived as very cutthroat, almost every stylist I have ever met has been none other than loving and supportive. The world of fashion never ceases to amaze me, and my love for it continues to grow with every client and educational class, in and out of the salon.
Aside from creating luscious locks, I am a sassy, short Latina who loves the color baby pink and adores building puzzles, drinking blended Mochas, playing with my dogs, shopping, dancing, and spending time with my boyfriend & friends.