Grace Boxell, Advanced Trained Stylist, Product Specialist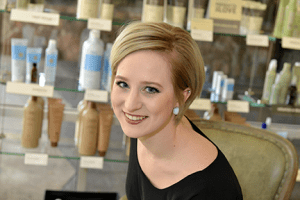 My passion for the beauty industry started in high school when I did hair and makeup for weddings and proms. I went directly to Aveda Fredric's Institute in Indianapolis, and quickly fell in love with the Aveda products and what they stand for. Since graduating, I have continued to further my education and fine tune my skills in color and hair cutting by attending classes in and out of the salon. I love to work with all hair types and enjoy helping each person find their unique style for their hair.
In my free time, I enjoy hiking, going to the beach, reading, and playing tennis with my husband. I will always be a Hoosier at heart, but am loving the California sunshine!