Jessica Gonzalez, Junior Stylist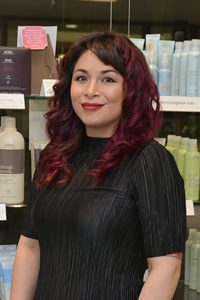 My passion for hair all began when I was 14 years old, which led me to my career as a hairstylist/artist. I am proud to say that to this day, I'm just as passionate about hair as when I was 14. I am also very passionate about learning, and constantly like to stay updated with the latest trends in the fashion world. I strongly believe that education never ends, and I continue learning to not only benefit myself, but also to teach my clients how to take care of their hair and what products and hairstyles will help them feel like their best selves everyday. Aside from doing fantasy colors and edgy haircuts, I also enjoy cutting men's hair, consisting of mainly fades and classic gentlemen's cuts. I really love to be able to make my clients feel good about their new look and provide them with the best service possible.
In my free time, you can find me at an art show, listening to music, or working out at the gym.