Tischa Chisholm, Master Stylist, Specializing in Curly & Trendy Hairstyles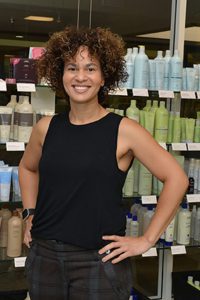 I have been a part of the beauty industry since 1996.  I am fascinated by the way color can enhance and even change a person's look. I love sculpture and feel that hair is the perfect medium to sculpt and create looks both subtle and dynamic. I enjoy connecting with people and listening to their ideas so that I can help them realize their vision.
I was raised in an artistic family and always had the freedom to express myself, I knew I would spend my life as an artist. Growing up as a child of Bi-racial union I wanted to understand my own wild curly hair. I had a curiosity and started my quest for understanding different hair textures. I have always been fascinated by hair different than mine and found a way to fully love my own. The Aveda concept is about loving and accepting the hair that you have and fully embodying that head of hair however you like.
When I am not in the salon I enjoy going on adventures with my family and glassblowing.