Specializing in Cut & Color Customization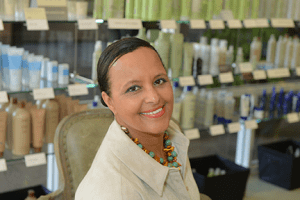 My happy childhood and my grandfather's blessing gave me a path to my vision. But yet I couldn't do it alone without my wonderful, supportive and beautiful daughters who believed in me it gave me the chance to build my dream for me and my family. Along with my loyal longtime clientele. Someone once said it takes a village to raise a child; it takes a strong family for success in life.
I always believed love, happiness and passion create beauty. When you are happy you connect, when you are in love you dream, when you are passionate you create. My passion for life led me to create and my creativity led me to fashion. I always loved fashion whether it is hair, clothes, interior design and accessories. What fascinates me and excites me the most about fashion are the color, texture, and shapes.
Hair, fashion, community and family: these are my passions.
My passion for hair in every aspect has led me to become a consummate learner of hair and fashion trends. I received my training from Santa Clara Beauty School. After graduating I knew I wanted to advance and become more knowledgeable and skilled in the beauty industry which led me to further my education.
I attended the Vidal Sassoon Institute of Beauty in London and upon returning to San Francisco from London, I attended the Fashion Institute of Merchandise and Design.
I have worked at several prestigious salons, such as Yosh and Donald Douglas in Palo Alto to eventually opening my own salon – Piccola Bella in Menlo Park.
Because I am a firm believer in giving back and protecting our environment, aligning with Aveda and their philosophy allows me to follow my passion and live my life with integrity within my family and community and provide my clients with natural alternatives to beauty.
In my spare time, I love hiking the hillsides and taking oceanside walks, joining friends for a glass of wine, and spending time with my family.